Home
Location
Program
- Wednesday
Registration
- pdf
- online
DVS EXPO 2015
Hotel Reservation
- pdf
- online
Travel
- by car
- by rail
Contacts
DVS-Website
Imprint
WELCOME TO NÜRNBERG / Germany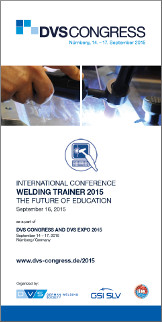 For the second time after 2011, the German Welding Society (DVS) will, with the DVS CONGRESS 2015 and DVS EXPO 2015 events, stage a large-scale event which will encompass different subjects and will offer not only the imparting of information, theory and practice but also entertainment in an interdisciplinary environment against the backdrop of Nürnberg.

With the Annual Welding Conference and other subject-related conferences, the DVS CONGRESS forms the annual event highlight for joining, cutting and coating technology.

The conference entitled "WELDING TRAINER2015 - THE FUTURE OF EDUCATION" will be one highlight of the DVS CONGRESS. Topical information and wideranging findings from the field of training in welding technology with the application of these new, modern systems will await you at the international conference.

Welding is more than hold the torch and to follow instructions. Welding defects are often produced by poor quality of execution. Therefore this quality and the knowledge should be learned as perfect as possible in the trade training. VWTS (Virtual Welding Training Systems)are made for this task and they will support the welding learning progress considerable.

A high training quality guides to a higher production quality, less rejects and higher effectiveness. All the relevant systems in the world will be presented in an accompanying exhibition within the framework of the DVS EXPO. The DVS CONGRESS 2015 and the DVS EXPO 2015 will unite the following events under one roof:

DVS Student Congress
ROBOTS 2015
Robot Welding Competition 2015
Joining of Fibre-Reinforced Plastics
Colloquium on Near-Application Welding Simulation
Adhesive Bonding Technology Theme Park
International Conference WELDING TRAINER 2015 THE FUTURE OF EDUCATION
Virtual Welding Training Systems Show and much more!