Home

Location

Registration Form
(pdf-form | online)

Programme
- 21 May, 2019
- 22 May, 2019
- 23 May, 2019
- Postersession

Event-Sponsoring

Tabletop Exhibition
- Exhibitors
- Registration Form

Registration for Hotels
(pdf-form | online)

Contacts


DVS-Website

Imprint

Data Protection

Tabletop Exhibition

Within the scope of LÖT 2019 we offer institutes and companies the possibility to present their products and services at a tabletop exhibition.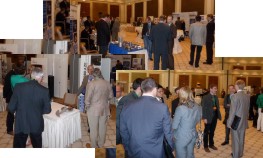 From the field of research, development and manufacturing you can directly address specialists - from the scientist to the technician and from the engineer to the user.

Due to the very positive response to LÖT 2004, 2007, 2010, 2013 and 2016 and the spatially limited capacities, it would be very recommendable to make your reservation for your exhibition desk as soon as possible! For further information please contact our conference department.

Use this opportunity! Present your enterprise and your products to a professional public!