SPONSOR:

Home
Congress Registration
Technical Program
- Tuesday, May 4
- Wednesday, May 5
Digital Exposition
- Information
- Registration
- Exhibitors
General Information
Sponsoring
Contacts
Data Protection
DVS-Website
Imprint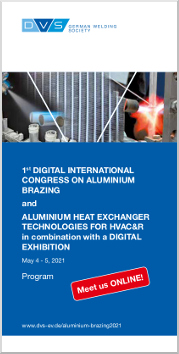 WELCOME TO OUR 1st DIGITAL INTERNATIONAL CONGRESS ON ALUMINIUM BRAZING AND ALUMINIUM HEAT EXCHANGER TECHNOLOGIES FOR HVACR IN COMBINATION WITH A DIGITAL EXHIBITION


Last year we decided to postpone the Congress on Aluminium Brazing (due to COVID-19) to 2021 and to link this event with the congress on Aluminium Heat Exchanger Technologies for HAVCR. A combination of both events will enable more attractionto a wider audience of the aluminium brazing community.

We are still sticking to this concept, but we are forced to hold the event digitally. We will combine pre-recorded video presentations with an exciting innovative and interactive conference format. Using an additional chat function you can also exchange ideas with other attendees.
We also offer a virtual platform for the exhibition! Exhibitors can present their products.

This event will remain an excellent opportunity for all attendees meeting online with leading specialists, authorities and well-known experts.

The congress is truly an event which anyone involved in sophisticated joining challenges should attend, even if it will solely take place online.

We look forward to meeting you in the virtual Aluminium Brazing world!