LÖT SPONSORS:


Covid-Information

Home

Location

Registration Form
(pdf-form | online)

Programme
- 21 June, 2022
- 22 June, 2022
- 23 June, 2022
- Postersession

Event-Sponsoring
- Current Sponsors

Tabletop Exhibition
- Exhibitors
- Registration Form

Registration for Hotels
- online

Contacts

DVS-Website

Imprint

Data Protection

INVITATION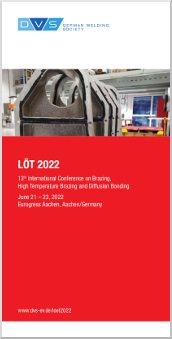 The 13th International Conference on Brazing, High Temperature Brazing and Diffusion Bonding will take place in Aachen from June 21 to 23, 2022. This conference is one of the world's leading events in this field. It brings together scientists, engineers and technical personnel from around the world who are involved in research, development and application of joining technology.

The world has changed dramatically since the last conference. Even in times of a global pandemic, the technical developments are progressing. In the companies, digitization has advanced, business processes have been optimized and customer relationships were strengthened. Brazing, High Temperature Brazing and Diffusion Bonding are complex technologies that have to be continuously developed. They are based on current research results, applicable standards and guidelines as well as adapted training measures.

Brazing technology in particular offers manufacturers a multitude of interesting and economical solutions for joining materials and products. A special level of knowledge is also required for the application of these joining processes, which results from the application-oriented exchange of information between practice and science The objectives of the conference are:

Presentation of technical solutions for modern applications


Transfer of scientific results into operational practice


Information about the latest trends and technological developments


Presentation of fields of application for new materials


Establishing or intensifying contacts between users and researchers


For this reason, we are now inviting you to the International Conference on Brazing, High Temperature Brazing and Diffusion Bonding for the thirteenth time.

It is a great pleasure for us inviting all specialists and interested experts to LÖT 2022 to inform about latest developments and trends and additionally to compare the latest findings in international dialogues.

Already today we know: LÖT 2022 will be a conference highlight in this year. We would be pleased to see you in Aachen.


Dr.-Ing. Roland Boecking
General Manager DVS
Prof. Dr.-Ing. Kirsten Bobzin
Conference Chairman