Home
Hotel-Reservation
- online reservation
Technical Program
- Monday
- Tuesday
- Wednesday
- Thursday
Registration Form
- online registration
Location
Contacts
Invitation for
Sponsorship
DVS-Website
Imprint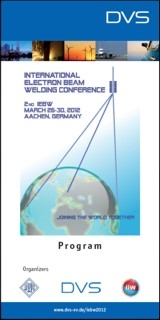 The American Welding Society (AWS), the German Welding Society (DVS) and the International Institute of Welding (IIW) are organizing the second International Electron Beam Welding Conference (IEBW). After the successful first IEBW in Chicago, USA in November 2009 it was decided to stage the conference every two years, alternating between USA, Germany and, in the future, Asia. The event will receive further support from the Japan Welding Society.

IEBW brings together scientists, engineers and technical personnel from around the globe involved in the research, development, and application of Electron Beam Welding processes.

This event is truly one that anyone involved in the electron beam welding community should plan to attend.

It would give us great pleasure to meet you in Aachen.



Dr.-Ing. Wilfried Behr
Chairman of
Program Committee

 
Ernest Levert
Chairman of
IIW Commission IV
 




Image: Weltkugel © Thomas-S, pixelio.de



Organizers: